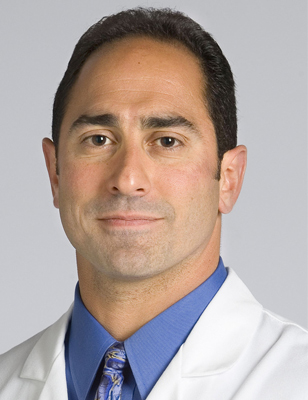 Paul Saluan, MD
Paul Saluan, MD, is a board-certified sports medicine orthopaedic surgeon at the Cleveland Clinic Foundation.
Dr. Saluan earned his medical degree from Case Western Reserve University and went on to do a general surgery internship as well as an orthopaedic surgery residency at Cleveland Clinic Foundation. He then completed a fellowship in Sports Medicine/ Orthopaedics at the Children's Hospital University of Colorado.
Dr. Saluan is trained in sports medical procedures of the knee and shoulder, including anterior cruciate ligament (ACL) reconstruction, meniscus repair, and rotator cuff repair. His research interests include outcomes following primary and revision ACL reconstruction, meniscal injures, and rotator cuff tears. Dr. Saluan functions as principal investigator at Cleveland Clinic for several national collaborative prospective studies like PRISM (Pediatric Research in Sports Medicine and ROCK (Research on Osteochondritis Dissecans of the Knee). He is the medical director and head team physician for many high schools and clubs and serves as the head team physician and medical director for the Cleveland City Stars – the professional USL Men's Soccer.
Medical Services
Coming soon
Biography
Paul M. Saluan, M.D., holds joint appointments in the Center for Sports Health and the Center for Pediatric Orthopaedic Surgery within the Orthopaedic and Rheumatologic Institute at Cleveland Clinic. He is the Director for Pediatric and Adolescent Sports Medicine.
Dr. Saluan specializes in pediatric and adolescent sports medicine, arthroscopic surgery and pediatric orthopaedic surgery. He is certified in orthopaedic surgery by the American Board of Orthopaedic Surgery.
In addition, Dr. Saluan is the developer and Director of the Orthopaedic Arthroscopy Skills Lab Curriculum. He also acts as a Contributor to a Pediatric Outcomes Instrument being developed to assist in pediatric injury/disease-specific outcomes research.
Certifications
Coming soon
Locations
Primary Location
Cleveland Clinic Sports Health Center
Mail Code SH02
5555 Transportation Blvd.
Garfield Heights, OH 44125
Appointment: (216) 444 2606
Desk: (216) 518 3473
Fax: (216) 518.3490
Additional Locations