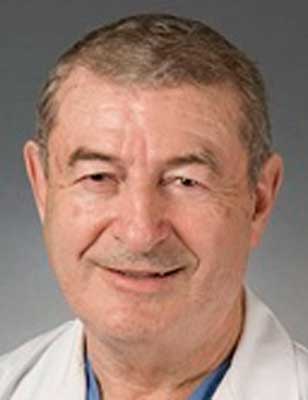 Lyle Micheli, MD
Lyle J. Micheli, MD, is the division director emeritus of Sports Medicine at Boston Children's Hospital, and a part-time professor of orthopaedic surgery at Harvard Medical School. In 2005, he was named the O'Donnell Family Professor of Orthopaedic Sports Medicine at Boston Children's Hospital. Dr. Micheli received his undergraduate degree from Harvard College in 1962 and his medical degree from Harvard Medical School in 1966.
Dr. Micheli is the series editor of Contemporary Pediatric and Adolescent Sports Medicine. He is regarded as one of the pioneers of pediatric and adolescent sports medicine, a field he has been working on since the early 1970s when he co-founded the US's first sports medicine clinic for young athletes at Boston Children's Hospital. He is a past president of the American College of Sports Medicine and was the Secretary General for the International Federation of Sports Medicine from 2010 to 2014. Dr. Micheli co-chaired the International Olympic Committee consensus on the health and fitness of young people through physical activity and sport.
In addition to many other honors, Dr. Micheli has served as chairperson of the Massachusetts Governor's Committee on Physical Fitness and Sports, is on the board of directors of the United States Rugby Football Foundation, is a chairman of the USA Rugby Medical and Risk Management Committee, and is on the advisory board of the Bay State Games. He has served as an attending physician for the Boston Ballet since 1977 and is the medical consultant to the Boston Ballet School.
Dr. Micheli was an avid athlete, competing in rugby, gridiron football, and boxing. Since graduating, Dr. Micheli played prop for various rugby clubs, including the Boston Rugby Football Club, the Cleveland Blues Rugby Football Club, Washington Rugby Club, and Mystic Valley Rugby Club, where he also served as a team coach. On March 28, 2017, Dr. Micheli was inducted into the US Rugby Hall of Fame.
Dr. Micheli has authored more than 300 scientific articles and reviews related to sports injuries, particularly those sustained by children. His present research activities focus on the prevention of sports injuries in children. Dr. Micheli has edited and authored several major books and text books. His most recent significant publication is the four-volume, Encyclopedia of Sports Medicine (2011).
Medical Services
Specialties

Departments

Programs
Education
Undergraduate Degree

BS
Harvard College , 1962 , Boston , MA

Medical School

Harvard Medical School , 1966 , Boston , MA
Certifications
American Board of Orthopaedic Surgery, General Orthopaedics
American Board of Orthopaedics, Sports Medicine
Locations
Boston

Sports Medicine Division
319 Longwood Avenue
Boston, Massachusetts 02115
(617) 355-3501

Waltham

Orthopedic Center
Boston Children's Hospital at Waltham, 9 Hope Avenue
Waltham, Massachusetts 02453
(617) 355-3501